- IN SEARCH OF MEANINGFUL CLASSICS
SUSTAINABILITY
We are committed to transparency, clarity and sharing information openly with you — down to the cost of our products, our factories and origins of our materials. We invite you to look further as we open the doors of our factories and reveal our pricing.
HANDPICKED CRAFTMANSHIP
Our goal is to trace our supply chain from the origin of the materials to production. As we only work with a few carefully handpicked partners, who have signed our Code of Conduct, we are fortunate to trace most of our production (assembling parts). Please see further information in each products' page.
MATERIALS TO LAST FOR A LIFETIME
We design meaningful classics that stand the test of time. Our products are timeless, and when taken care of properly, they last for years. For this reason, we have chosen to use only sustainably sourced, high-quality and mainly natural materials, such as mulesing-free merino wool and soft organic cashmere.
OUR PRICING
Almada Label has nothing to hide. Instead, we believe that it is important to clarify the true costs of what you're paying for when purchasing a meaningful classic. Our business model allows us to maintain the finest quality while keeping prices at a fair level. If we were a regular retail brand, the price of the ALMADA LABEL pieces would be multiplied by 2,5. 
Each ALMADA LABEL style goes through multiple stages before it is ready for your loving wear. Our markup covers, our running costs, such as webshop costs, warehouse, design, sampling and marketing. It also allows us to pay our coworkers, photographers, models, consultants and freelancers.

Below is an example of the costs of our Ivy Mohair Coat compared to traditional retail costs: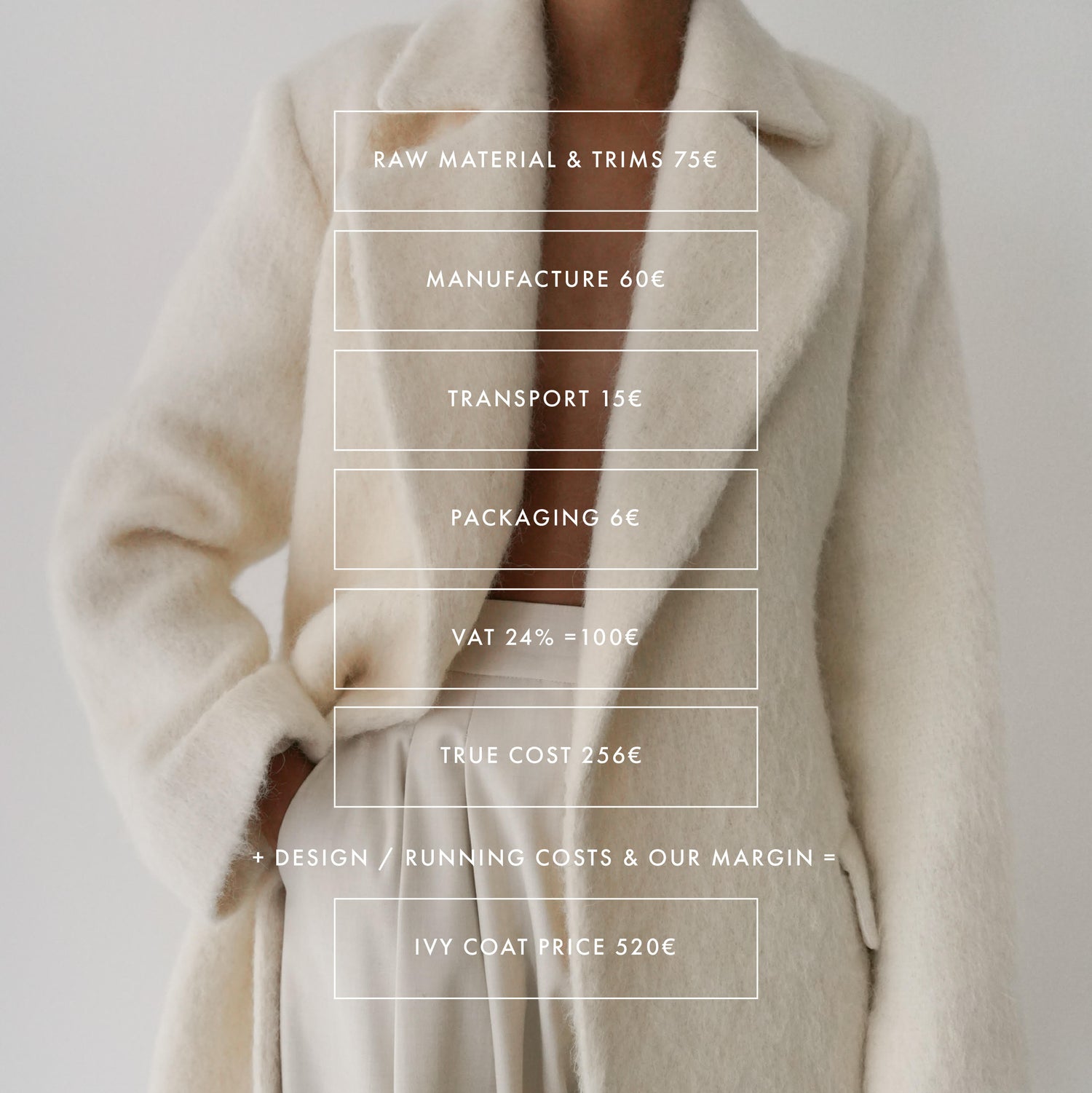 RAW MATERIALS & TRIMS
- Fabrics
- Trims, buttons and other accessories

MANUFACTURE
- Labour

TRANSPORT
- From factory to wearhouse

PACKAGING
- Packing materials (boxes, silkpaper, stickers etc.)

VAT = VALUE ADDED TAX
- The standard rate of VAT in Finland is 24%

RUNNING COSTS
- Product design & development
- Sampling
- Warehouse & logistics costs
- Webshop & maintenance
- Marketing & PR
- Salaries
- Photography
- Models

YOU HAVE A ROLE TO PLAY
Everyone has an important role when it comes to reducing environmental impacts. You can play your part by making meaningful purchases and taking care of your clothes. Please see our Care Guide for instructions on making sure our pieces have a long life in your wardrobe. Also, please remember to pass them on to a second life after your ownership by reselling or donating.
OUR PLANS FOR THE FUTURE
Sustainable fashion is a complex topic, sometimes overwhelming and most of the time quite challenging. We are very humble when facing this challenge and certainly, we are far from perfect. 

Instead, we are on a journey: taking one step at a time, always trying to improve our actions and find less impacting ways to create meaningful classics for you to cherish in the years to come.