We are always drawn to women who are passionate and driven, and our muse Anouk Yve is no exception. As a mother and entrepreneur, she perfectly balances her busy everyday life with her impeccable sense of style. We asked Anouk to share with us her fashion journey, favorite pieces, go-to outfits, and style philosophy, and we couldn't help but take notes on her fashion tips.
TELL A BIT ABOUT YOURSELF?
I'm Anouk, Anouk Yve on Instagram. After a life of moving to different cities such as Stockholm, London and Newport Beach, we've settled down in the north of the Netherlands with my husband, a former professional football player, and two kids. I love to practice ceramics, I'm a real salad master chef, and 94% of women on my Instagram follow me because they seem to like what I wear on a daily basis.
WHAT IS A TYPICAL DAY FOR YOU IN NETHERLANDS?
The morning traffic jam involves getting the kids prepped for school. After we bike to school, my day starts at 8:30. I work out three times a week in the morning, doing Reformer Pilates and personal training. On Thursdays, I have my ceramic practice, which is three hours of studio work. The rest of the time, I work mainly from home.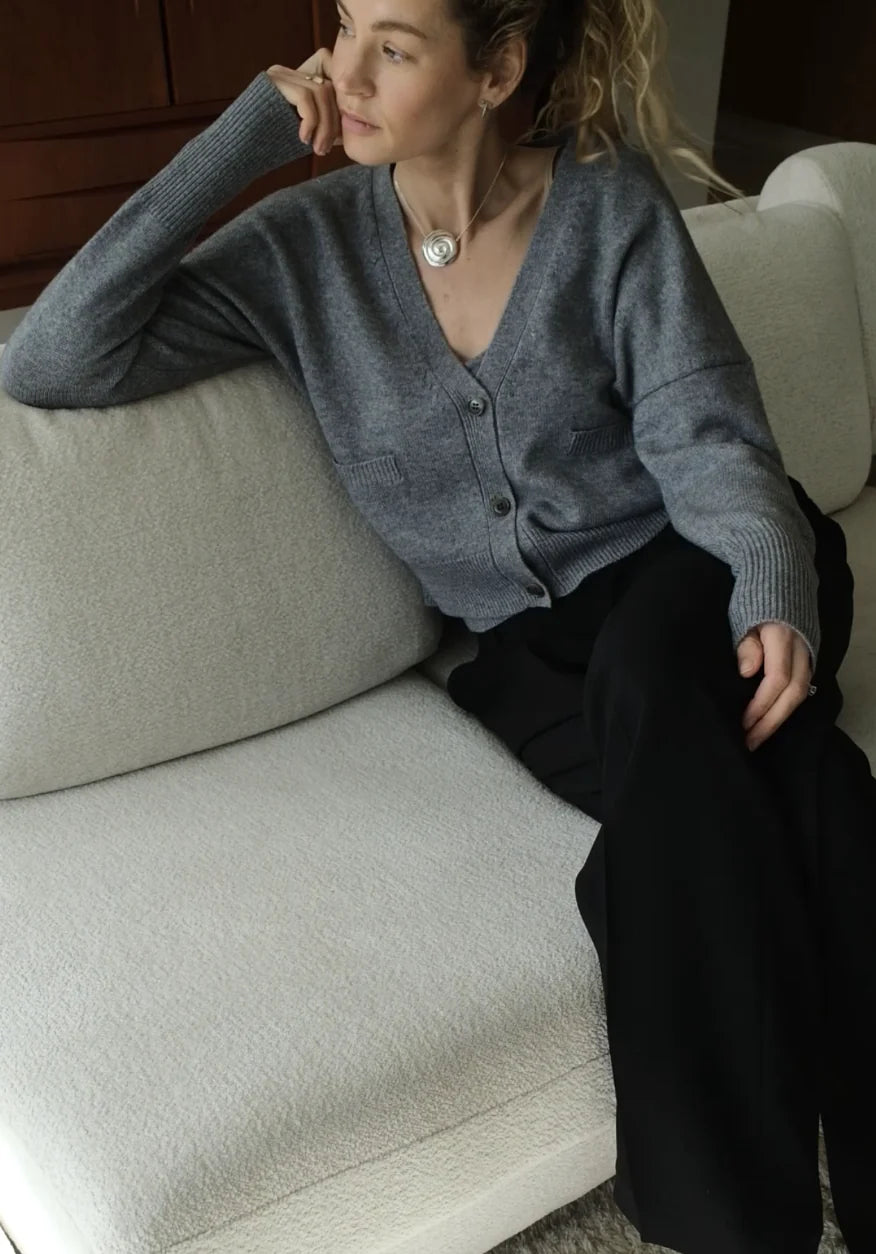 CAN YOU DESCRIBE YOUR PERSONAL STYLE AND HOW IT HAS EVOLVED OVER TIME?
My style is influenced by the cities I've lived in and can best be described as casual, effortless chic with a nod to Scandinavian minimalism and Californian laid-back style. I prefer a closet consisting of timeless items that I can reinvent over and over. I let my accessories do the talking, and my clothing palette needs to be a neutral color block where I play with silhouette and shape. I was always into minimal styles and still am.
WHERE DO YOU LOOK FOR STYLE INSPIRATION?
I love getting inspired by movies and Tumblr.
WHAT INSPIRES YOU AT THE MOMENT?
I love the outfits of the cast from Melrose Place - the original version. It has inspired me a lot lately.
COULD YOU TELL US A BIT ABOUT YOUR OWN COMPANY, TALJÉ? WHAT INSPIRED YOU TO START YOUR OWN COMPANY, AND HOW DID YOU GET STARTED?
Well, I started my career as a marketing manager for several bag brands, so I'm familiar with the leather goods industry. My best friend is a designer. I always wanted to have my own label, but it had to be timeless. I have a huge belt collection, vintage Hermes belts from the 60s, old Celine belts, which I source from Etsy and vintage designer stores. Suddenly, I came up with the idea to create a belt brand - a collection of high-quality leather belts made by artisans inspired by the vintage models I have embraced over the years. The process is really interesting. We use full-grain leather as inner lining, which is just as expensive as the outer leather, but it's the best to use and it really sets me apart from the competition. I'm so proud of the product.
CAN YOU SHARE A STYLING TIP THAT YOU ALWAYS KEEP IN MIND WHEN PUTTING TOGETHER AN OUTFIT?
Neutral color blocking: seek new neutral color combinations to really emphasize the silhouette.
WHAT IS THE MOST VERSATILE PIECE OF CLOTHING IN YOUR WARDROBE?
I love the black Coco Cashmere Cardigan from Almada Label. It's super chic and of great quality. I can wear it during the day and night. It's versatile.
WHAT IS YOUR GO-TO ACCESSORY TO ELEVATE ANY OUTFIT?
My silver bracelets, they are from Tiffany's and I really like to wear them as they give a cashmere knit just that bit of extra.
TELL US YOUR 5 MUST HAVE WARDROBE STAPLES?
Vintage Levis 501, Almada Coco Cashmere Cardigan, Black trousers, White shirt & White figure hugging long sleeve tee.
WHAT DO YOU DREAM ABOUT AT THE MOMENT?
A little apartment in Stockholm, my favorite city in Europe.